English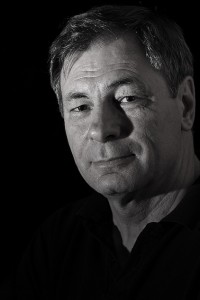 VENTABREN
Aged 65, born in Nîmes, Didier Ventabren is still living in the south of France. He has been painting since he was 13. Rooted in mediterranean culture, his art is exuberant and materials-based.
He finds his breath in the streets of Nîmes daydreaming of Cervantes, exploring the imaginary world of greco-roman mythology with its bulls, characters and fables.
He is painting horizontally from the ground and up, by layering different coats starting from a base made of sand, steel, cardboard and sometimes scraping them, …This technic translates his representation of life being the result  of a sequence of positive and negative experiences.
Imaginary masks don't refer to a physical reality but their grotesque dance, the amazing colorful and noisy masquerade of their rowdy barbaric primitive characters mime drama and the tragic side of life
The current works are mixing remaining pictures of travels,  imaginary characters, and simultaneously their dreamed dimension.
Places and persons, have an objective appearance, but they are also a book of stories, and emotions. « When a griot dies, it's a library that burns! « (Amadou Hampâté Bâ). How can one get this library still living?
Superimposed elements « real » texts of mediterranean and south american cultures, mythical or poetic … « wallpapers » that accompany us along the road and time.
True to his culture, his main characters seem to come out of a dream that is instantly recognizable to us all. They are sketched temperatly, a few black thin lines on a white and long sad face, lost in his old dreams, Don Quixote, the madman, the wise man, the saint or artist.
Inspired by his roots, adding elements of his own life, he is building a track of a particular fusion, constantly renewed by present time.
Featured:
Mulhouse- Galerie Concorde
Alexandria-USA: Kyo Gallery
UA-65670843-1